Tile Quest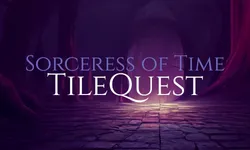 Posted October 22, 2023. Updated October 22, 2023. Has been played for 142 hours.
description
---
Tile Quest is a puzzle game based on an old principle seen in classic games such as Alchemy: connect tiles either of the same color or with the symbol, and if you make a line - you get points and remove the tiles involved.
Make sure to go through the tutorial.
Please, keep in mind - this game is still in development. It also doesn't look that well on mobile devices and was made with a desktop experience in mind.
The game features an original soundtrack. Backgrounds were made in Midjourney. The tiles are based on icons I purchased from the Noun Project.
similar games