Yet Another Match-3 Clone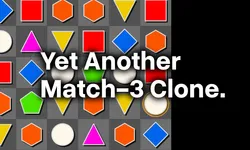 Posted September 10, 2023. Updated October 16, 2023. Has been played for 602 hours.
description
---
With multi-swapping
latest update
---
0.3
October 16, 2023
Added compliments (those text that appears when you make a move that gives a large amount of points).
Added more options.
Some options are now moved to global storage.
Added dates to changelog, scroll bars to scrollers, and other random UI stuff.
view all updates
similar games