Idle Region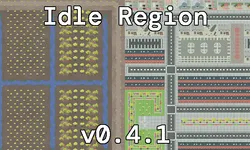 Posted August 5, 2023. Updated August 25, 2023. Has been played for 218 hours.
description
---
Idle Region
(The Idle City Builder)
---
Current version: 0.4.1b - If your loading screen doesn't match, right click and "reload frame"
---
Bring your humans from the depths of a cave to the heights of skyscrapers. Manage resources, balance happiness, build beautiful monuments, create the hustle and bustle of a booming society, all from the comfort of a birds-eye view.
Idle Region is:
An idle game

A city builder

A resource manager

Strategically engaging

A procedurally-generated sandbox creative experience
---
This game is still heavily in development, things are bound to change, and updates are frequent.
Technical feedback appreciated. This game has a lot of stuff going on under the hood, if you encounter a bug I'd appreciate it if you reported it, with some kind of detail ("when I do thing A, weird thing B happens") is a lot easier to understand than ("this doesn't work").
This game has trouble running on some mobile devices, tablets and android devices are more suited.
Mobile controls are now an opt-in setting in the options menu. If you enable these by accident and are not on mobile, you can open the options menu by pressing the "O" key, then disable it.
latest update
---
Painting the Town
v0.4.1a
August 25, 2023
New Content:
New tile type: Pavement allows you to paint the ground without impacting production
6th tier of buildings and edicts
8 new scenery tiles
New edicts in tiers 3 and 5 to increase the maximum earning time while away from the game
Added a feedback form to the Social tab in the Options menu. If you encounter a bug or have a suggestion, submit it there!
Changes:
Buffed the amount of beauty that scenery tiles give
Increased price of higher-tier paths to better reflect higher building tier prices
Changed a handful of building sprites to remove any ground textures
Overhauled sound system, sounds should no longer collide with one another
Bug Fixes:
Fixed a ton of issues with the Permanent Day setting
Fixed sky textures not loading in older versions of Firefox
Fixed audio not playing in Safari
And a ton of other smaller fixes
view all updates
similar games