The Alterhistorian's Conquest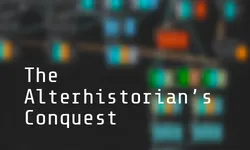 Posted May 21, 2023. Updated June 25, 2023. Has been played for 3334 hours.
description
---
Please play in fullscreen.
Create the elixir of immortality in a world where elements are fluid and concepts can be distilled.
The primary goal of the game is to effectively manage your machines and resources. Idling is recommended to get fast time, which speeds up lost production.
Left/Right click on output slots to extract and hold resources, and Left/Right click on input slots to put them in.
Arrow keys/dragging to pan around the grid.
Hold resources in your hand to use them for upgrades.
latest update
---
Hints
June 25, 2023
Since many of you were complaining in the comments about not being able to get certain resources and feeling stumped about progress- All resources are now visible at all times, with the name obscured for non-unlocked resources.
You can view resources by clicking on the map icon.
view all updates
similar games