Demigod Infinity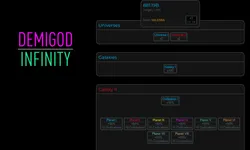 Posted August 24, 2023. Updated August 24, 2023. Has been played for 5780 hours.
description
---
Demigod Infinity is part of the Demigod series. This game features an almost zero player version of the game, previously known as Demigod 0.1.
The game was polished, its math and UI improved. Apart from the optional multiplier button, the game can be played completely idly. It features waves of increasing rates.
By default the sound is off, but for those of you who play with sound, turning it on is recommended - when the rate is increasing almost exponentially, the click-click-click of it is very satisfying!
similar games