Button Simulator Level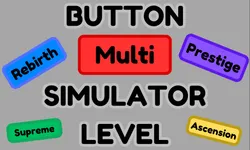 Posted October 17, 2023. Updated November 12, 2023. Has been played for 322 hours.
description
---
linear game
Tips:
• Save up multi/rebirth (you will know how much to save)
• The game gets more faster after <30 min
[IMPORTANT]
Last time break-eternity.js didn't work, and now i added it in and as some know, its like a completely different system. And I also really changed balancing a lot, and i dont think anyone played the game a lot, and this is actually the last time, everyone has to hard reset. Its mainly because of break-eternity.js, but also because i changed the gameplay and its out of beta/testing, and as a normal button sim in testing, data resets after it. I really hope no grinded a lot, and if you don't wanna reset tell me in the comments and i will try to find a way to fix it.
real
~Button Simulator Level~
 • A button simulator, very simple and basic incremental
 • Twists: All buttons are combined into one, with levels to upgrade to the next button
 • Has a feature called "Sacrifice" As a reset layer to all reset layers which is kinda weird but idc

Credits: Me (just me, don't even know why I added this)
enjoy :)
oh and report any bugs that you find in the comments, and give me any ideas for what I should add to the game or change
Discord:
https://discord.gg/ESHaKXDc
latest update
---
UPDATE 2 (CHANGES AND BUGFIXES)
v0.1.1
November 12, 2023
• Changes UI a bit
• Balancing
• (BIG) you can now go way further than 1e308 (like way further)
• Fixed Ascension and Mobile Bug
• More Bug Fixes And Changes
• The Game Is Just More Fun In General Now
view all updates
similar games