Idle Isekai - An Idle RPG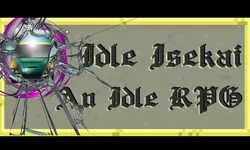 developed by

NoobsGames

rated 3.0 stars, 35 ratings
rated 3.0 stars, 35 ratings
idle
2d
single-player
rpg
prestige
Posted June 2, 2023. Updated September 17, 2023. Has been played for 1555 hours.
description
---
<Note form Dev> - please note that save file may brake as I update. This game is in very early development ALWAYS backup your saves before updating. If you run into an issue please please please let me know i am here to fix all and every bug and problem you may run into!
In Idle Isekai, one of the keyways to progress and take on stronger enemies is by upgrading your equipment and reincarnating your characters to get new and better stats. As you battle monsters, you'll earn gold and God Energy that can be used to enhance your gear or Enchant your relics. Reincarnating your characters not only improves your character's stats but can also provide special abilities and bonuses that give you the edge in battle. With each reincarnation you'll feel the sense of accomplishment and see your character become more powerful and capable of taking on even greater challenges. With this RPG there are no level caps and not even the sky or the Univers for that is the limit
latest update
---
Update Notice!
N/A
September 17, 2023
Hello everyone! Just wanted to start by saying thankyou for all the advice and trying out my game while it was still in very early development. I have some good and bad news, lets tart with the bad news to get it out of the way!
BAD NEWS:
Due to health issues I will not be posting any new updates for this over the next few weeks while I work though said issues. Rest assured I am still programming and the game is still being developed ive just cut the building and sending off for testing portion (You guys have been great testers so far!) To make matters a little worse, while I was away for a bit over the last few weeks the Company I set up save files with, updated from a "hobby" to an actual company but sadly in the process all online saves were lost. (i have been reassured this will not happen again and it was just due to por data migration setup on the old server) As such all online saves are gone, and until i push out a new update you will not be able to save from this location.
If you wish to continue playing you can go to Itch.io and download the windows.exe version and that will create offline save files. I Will do my best to ensure those save file integrate with the new save system i am create so that not all data is lost.
I expect that the next released update probably won't be till the end of OCT.
OK! Enough of the bad news!
GOOD NEWS:
In short, I am still continuing to program the game and it is continuing to improve during this time. As a measure of good faith I will list a few things I have already done and several things that will be here once the next update does come!
Already Completed
= **All new Gem Item shop **
== The shop allows you to spend very small amounts of gems to get boosts for your units during battle.
== Spending gems at the shop increases its level wich in turns unlocks more and better types of boosts
== The shop also introduces new story elements and new characters
== This also give players more control over the fight going on before them and makes them less of a stander by
= Story 1
== Story one has been rewritten (still the same basic story) with new characters all new jokes.
== SPELL CHECKED!!!
=== As many of you suggested, the entire first story has been spell checked by my actal story writer! (trust me i'm just as excited about this as you are!) Thanks for all your patience as I work through all of my dyslexia spelling problems!
== All main characters have multiple expressions now! This helps to add a little more emmertion and helps with the delivery of some jokes!
= Story 2
== Yes! The long awaited story for world 2 has been entirely written and is currently under development!
== New Characters, new Isekai awesomeness, and even the start of some cool plot twists!
That is all stuff just since the last update! Some new stuff thats still on the horizon and (should) be included int he next update
= New and improved save system
== The new save system will include manue new features!
== Faster game saving
== Partial game saving!
=== This is targeted saving for spesiing things, insted of saving your entire game this saves just the part that have changed most recently, this will make it so that very little data will ever be lost as it will be pushing small saves often!
=== This saving technique allows me to set up so that when you log back in instead of being back at the town you can be loaded in directly were you left off with the wave level and units exactly as you left them (or within seconds of when you left them)
=== Allows for save so be MUCH more reliable then before. Do to uploaded files bing much smaller the likelihood that the packet is dropped or data is lost is much smaller.
= Story 3
== Stoy 3 is already being written and some of the sprite and characters for it are already made! But by the time the next update gose live i expect story 3 to be completed and playable!
== Many of the upcoming updates will be more story related with new units enemies and collectable characters being in relation to the world and story!
= Offline Rewords
== As an expansion to my new daly reword system i added in the last update, there well be offline rewords granted to you apon login
== not to much to say about this yet except that your units will receive up to 8hrs of equivalent gameplay when the game is offline (not sure if they will progress or you will just receive XP Gold and Loot baced on your DPS and GPS of the last few waves your on)
= Several New Characters
== There will be several new collectible and story granted units and enemies by next update (probably a minimum of 5)!
Stuff that will (probobly) not be in the next update but will (probably) be coming!
= Event baced collectible units and challenges
= Fun minie game to use your vaulted units to get cool and fun rewords
= Leaderboard and Chalenges were you face off against other players to get higher scores and win rewords!
= Many many more relics
= Shop were you can perches permanent boosts to your units and characters with Gems
= many more ways to get gems!
Thanks again for all your support feel free to message me with any questions ill still be checing the comments section every now and then incase you want to ask how things are going! Sorry for the delay, and i look forward to giving you all a much superior version of the game in a few weeks! (probably like 6 but could be less if i get some good news form my next few test results)
view all updates
similar games