this crazy idea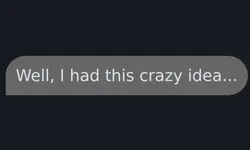 developed by

yhvr

owner

rated 4.0 stars, 49 ratings
rated 4.0 stars, 49 ratings
profectus
active
prestige
story
strategy
Posted May 29, 2023. Updated May 29, 2023. Has been played for 327 hours.
description
---
hopeless startup simulator, made for the Profectus Creation Jam, and won first place... somehow??
---
Everybody has some great ideas for the future, but not everybody wants to do the work to get there.
"this crazy idea" puts you in the role of a programmer as their friends and family barrage them with startup ideas, that are all so mind-numbingly stupid that they're doomed to fail.
But... you're a nice person, right? You wouldn't say "no" to a good friend.
Or would you?
Can you break the cycle?
similar games